It all begins with the suppliers
Insights from the Lineapelle Science Based Talk with Spin360
With the hustle and bustle of Fashion Week taking over Milan, the city kicked off the week with three days dedicated to a series of fairs focused on materials and leather, footwear, and production machinery. Fairs that each year welcome over 40 thousand international buyers in just a short couple of days. Among these of course, Lineapelle. First launched in 1981, Lineapelle is now considered one of the most important international exhibitions dedicated to leather, accessories, components, synthetics and models for footwear, leather goods and garments for the fashion and interior sector.
Over 1,300 exhibitors from 47 different countries to showcase the next Fall Winter 24/25 collections that this edition stood under the mutual theme of metamorphosis and the concept of Everything, everywhere, every time, speaking to the idea of contamination, experimentation and creativity without limits in design. Of course, the reoccurring theme of sustainability at the core, with experimentation interpreted also in in terms of no waste and circularity.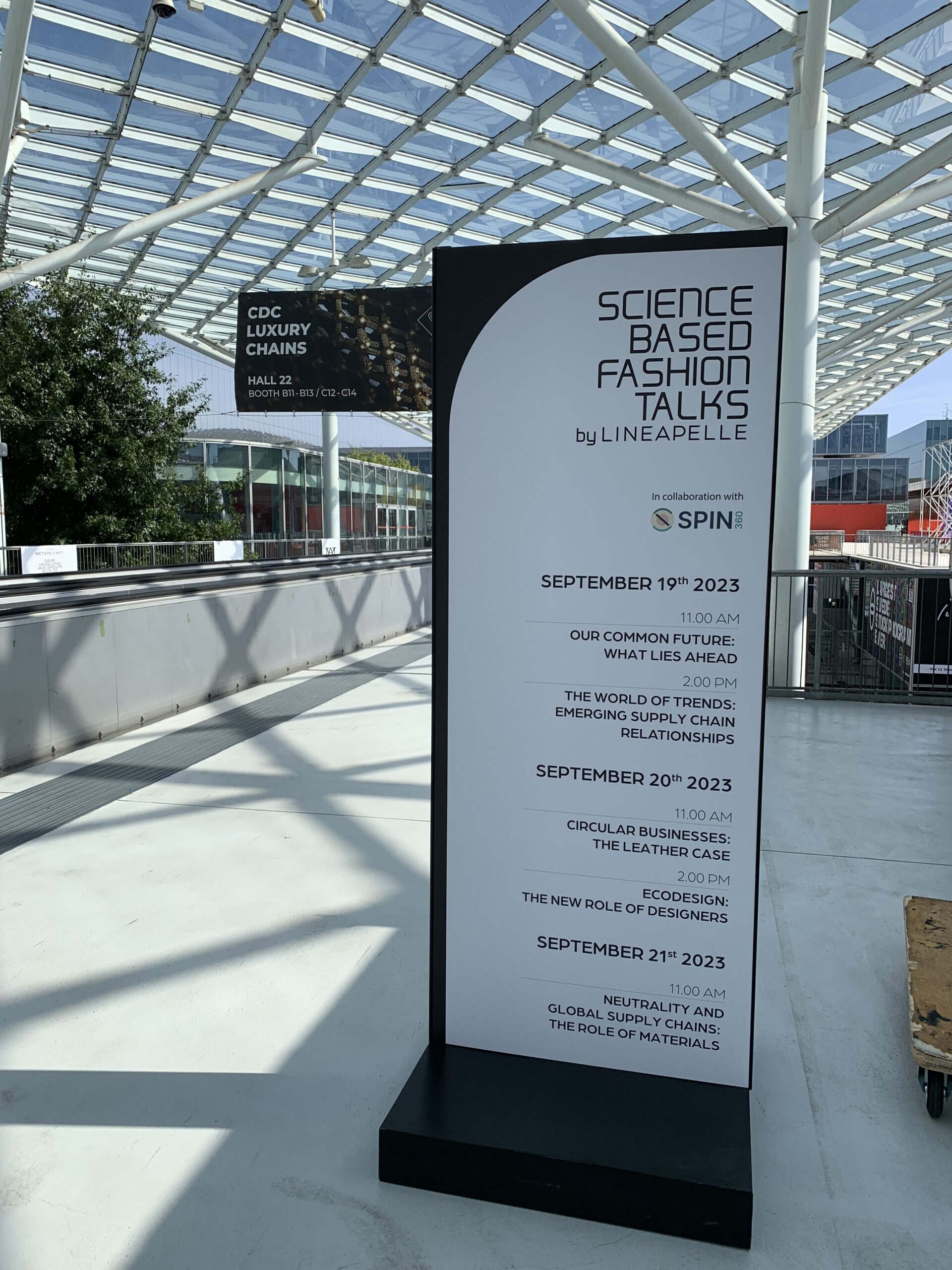 With this important and buzzing manner in the air, Spin360, Italian-born company and factory of sustainable innovation offering brands and entities in fashion and luxury sustainability consulting, environmental consulting and innovative and sustainable business models, also found its spot at Lineapelle. In collaboration with the fair, Spin360 co-launched Science Based Fashion Talks, a rich agenda of inclusive and culturally elevated meetings and debates on science, innovation and the market of industrial interest led by speakers from the world of science, international institutions, brands, and tech professionals.
Among the themes in the agenda: the World of Trends- emerging supply chain relationships inviting to the stage, Luca Tonello, General Manager Deda Stealth as well as, Silvia Gugliotta, Product Responsibility Manager Manolo Blahnik, Elisabetta Baronio, Senior Sustainability & Responsibility Manager, Timberland, Nicolò Giusti, Director Sourcing and Production, Tommy Hilfiger.
With fashion being one of the biggest and most impactful industries in the world, luxury groups must begin to set business objectives that take into account economic, demographic and environmental global scenarios and their evolution in order to accelerate towards a sustainable output.
The important role of the supply chain as a catalyst for the change needed was the heart of the presentation.
''What does sustainability mean to you in just one word?'' asked Nicolò Giusti of Tommy Hilfiger, each person in the room raising their hand and responding with a different word. A question that in fact represents a strong and important issue many brands, especially in the European Union, are facing today: the I don't know what to do, what I need to do and what I will need to do. Questions brands are all of sudden having to ask themselves during this fluid time springing from recently developed legislation, incoming legislation, and uncertainty as to what's coming from government bodies in the EU, and also abroad. But one thing is sure he says, ''it begins early on, with the materials and with innovation.'' It begins with the suppliers.
Tracing the origin of the products we build is ''extremely fragmented and complex'' and suppliers are ''struggling to give brands and sustainability managers within companies the support they need'' states Luca Tonello. There is large learning gap for brands, but even more so for their suppliers in this fluid time that will always require more information and data to back-up evidence from both sides. As Silvia Gugliotta of Manolo Blahnik states, ''we brands require a huge and continually growing amount of information from our suppliers that makes it difficult for them to stay behind.''
With brands and suppliers across different tiers being at notably different technological phases, obtaining the data they need is not easy. Manual processes and irregular processes used to collect necessary information is taking place in different systems often independent from a brand's ERP or PLM system discusses Luca Tonello.
Of course, opening conversation and improving relationships with suppliers is fundamental for driving proactive positive change. As Silvia Gugliotta mentioned, Manolo Blahnik has launched a supplier engagement initiative to bring different parties working towards a mutual goal in the same room and better understand their challenges in order for the brand to lead and guide the supplier in working in a more streamlined way.
So, what is technology's role in this complex puzzle that involves different stakeholders? Streamlining process and aggregating information into a single system, moving the role of data from just ''reporting to improving processes'' within a brands infrastructure and production.
Even though we cannot give sustainability a clear definition, it is ''important to think of it as a process towards improvement'' that can begin to take shape with digitalization and with control over the earliest states of the supply chain, states Tonello.
With technology including Stealth Connect and Bsamply that can be used by both brands and suppliers to manage all steps from the initial sourcing to the final production of the finished garment, manual processes and the number of systems used to collect the same information from suppliers begins to be reduced. A method that in the long run will create less work for the supplier and provide tangible, auditable data for the brand to use to interpret and assess performance, supporting traceability and improving sustainability along the value chain, while at the same time, responding to the new conscious driven purchasing decisions made by today's consumers.