8 Questions with Deacor Tru Tex
We sat down with founders of Deacor Tru Tex, Canadian supplier offering fashion and interior brands 100% USDA sourced and certified Pima, Upland and Naturally Coloured cotton
Transforming fashion from Anthropocentric to Eco-centric. That's the saying behind the Canadian textile company offering buyers and brands 100% USDA-sourced and certified organic Pima, Upland, and Naturally Coloured Cotton. A company whose unique story, mission, and vision speak to the excellence and distinctiveness of its products and efforts towards a more environmentally friendly business approach.
The story of Deacor Tru Tex first begins with the birth of the vegan and ethical fashion line, Mayd in Chyna, led by mother and son designers, Giovanni and Maria Teresa Perna. A Canadian women's and men's made-to-order fashion brand made using 100% USDA sourced and certified Pima, Upland and Naturally Coloured cotton, and 100% USA hand-selected family-run suppliers who are either GOTS, Oeko Tex or BlueSign certified. A fashion label designed to be a catalyst for positive environmental and societal change and not just a fashion statement, using its name to radically redefine the concepts typically associated with the phrase Made in China and promoting circular and slow fashion. With increased positive feedback from customers on the fabrics of the clothing and high demand for information as to what makes the fabrics so soft and of superb quality, the brand decided to open their fabrics to the textile market, unveiling the company that is now Deacor Tru Tex.
We sat down with the founders of the company, Teresa and Giovanni to learn more about their commitment and passion for driving positive change in the world of fashion.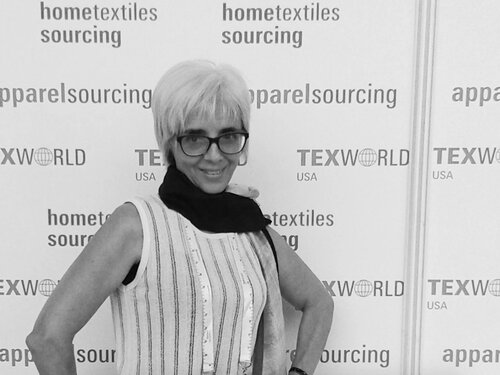 1.Teresa, prior to starting Deacor Tru Tex you began the apparel company Mayd in Chyna. Can you tell us a little bit about how and why your drive to create a fashion line, and more importantly an almost entirely sustainable fashion line first began?

Best way to answer this is that when I look back before the word sustainable was around, what i see is that our lifestyle was in essence what is now referred to as sustainable. Living this way started with my parents, so it came naturally without any thought. But also you have to remember that sustainability doesn't just apply to clothing; it applies to your daily choices of what you eat, where you frequent, where you vacation etc. Creating a truly sustainable fashion line was in a certain sense simply an extension of who we were and how we lived. If we talk about my relationship with my family, it starts with my clothes. My mother made my clothes, and when I was a teenager, I would have my pants and jackets made locally by a tailor. When I later had kids, I would either spend the extra amount to buy quality, or MY mother and aunt Would make them. I've grown up with the idea of only wearing and purchasing quality that lasted a long time. That's what I wanted to find in a retailer, but because of the lack in the market and a large majority of the selection made in China, I thought to bring others what I believe in, quality, lasting a long time, and ability to see and know who constructs the pieces and what goes into the pieces.
2. Sustainable and ''slow fashion'' which first came into our vocabulary in 2007, are two words that are often used, but even more so often misused in the industry today. Can you talk to us about some of the common misconceptions and why on the other hand your products do respect the true definition of slow fashion?
The core of sustainability is that you don't produce a lot. To me, that is really true sustainability. It's the quantity, there is so much overproduction and overconsumption. We made our Brand seasonless and we don't follow the trends; that means we don't overproduce. I want these pieces to be there for a long time and easily complemented by the addition of a few items and accessories. But also, looking at each step of the supply chain. You have to know and go out and see what is actually being done across each step. The industry creates buzzwords that people don't seem to really take time to understand. I don't give weight to industry buzz words and I don't like falling prey to these coined words that as you said are often incorrectly used and falsely claimed, I simply want to communicate and have people understand the real and honest story behind our pieces.
3. The fabrics of Mayd in Chyna and now of your sole fabric line, Deacor Tru Tex are primarily Pima and Upland cotton. For those who don't know, talk to us a little bit about Pima and Upland Cotton and what makes it different to cotton more commonly grown in India or China.
The first misconception is that Pima is only grown In Egypt which is not the case, but actually its commonly grown in South America and the US; Canada cannot of course because of it's colder climate. Cotton comes in short staple, long staple and extra-long staple lengths. Pima has an extra-long staple length whereas the upland is a shorter cotton staple length. The staple length is a huge huge variable in cotton fiber properties. The longer the staple the better the cotton. It is stronger, resistant to pilling, softer and more luxurious to the touch, has a sheen, and it also resists wrinkling. The growing of the different types of cotton is relatively the same, but the differences in cotton staple length properties are exacerbated as soon as conventional manufacturing comes into play, that's when the cotton's integrity is negatively tampered with. Conventional cottons grown globally are grown in contaminated and lifeless soil that have lost all of its nutrients because of the practice of using monoculture farming methods. A truly sustainable farm does not grow the same crop i.e. cotton (or whatever it may be) year after year. It does rotational cropping. For example, on our farms, beans, peanuts, and peas are alternated with cotton. This is one of the most impactful differences between conventional and organically grown cotton but there are many more.
4. Having control and this full local visibility over the supply chain is fundamental today and the Deacor supply chain is quite short in fact. What is your process in terms of finding the suppliers you work with and what is your relationship with them?
It means getting into your car and going out to vet them; that's why we choose the US. The US is our closest neighbor, why look further? We met our suppliers, sat down with them, had many meals with them and then we were given demonstrations of what they did and how they did it. Once we agreed on what we wanted, we took more trips to actually see the harvesting, the spinning, the weaving etc being done. We were there to see the fabric samples as they were coming out of the spinning and weaving machines so that we could adjust the patterns and constructions to our liking. We continue to keep in touch and have made lifelong friendships with our suppliers. We spent the bulk of our resources on R&D because that to us was the most important element in getting our fabrics right. We also commissioned two consultants, veteran spinners and weavers that assisted us in constructing the weave and knit patterns we wanted without using any chemical inputs because you see you have to create a certain yarn count, yarn count combo and twist in the cotton fibre you are using in order to achieve the pattern, look and feel that it presently achieved by industry through the use of chemicals, which we don't use. For example, mercerizing for sheen and strength or sizing for shrinkage, we don't do this. Please check our processes on our Deacor Tru Tex website to find out more.
5. With many of these changing status quos, have you experienced changes firsthand in terms of your consumers? Are brands becoming more specific in their requests and requesting information and metrics they maybe wouldn't be requesting years ago?
We don't have much experience with this, we are still a new and small company. But generally what we are seeing is that consumers want to be more sustainable, but are not ready to pay for the expensive processes that are involved in a really quality and sustainable product. This of course could be related to a lack of industry-available information as to why a sustainable piece has a higher price associated with it. I think this is going to take a long time to come. Additionally, I think consumers still want a lot of variety in their wardrobe and are not fully comfortable in knowing how to achieve this with varying and simple additions to an existing item they already own. I believe this is something that we as sustainable designers have to demonstrate to the consumer.
6. Teresa, I can imagine its necessary for your customers to be able to receive this information and master data behind your products, firsthand in order to better track their CSR and ESG metrics. How do you meet these brand needs?
Our website is very comprehensive and provides detailed information and of our story and vision. Additionally, we put QR codes on our tags that provide the customer with all the metrics and information about the production processes.
7. With many of these sustainability-driven companies often being small and emerging brands who are born with a more technologically driven mindset and work manner, how has Deacor Tru Tex, your line of fabrics, had to adapt its sales and communication methods in order to meet these target customers?
We need to be more up to speed technologically but we are trying. We're involved now with a global wholesale platform called Joor for our fashion Brand and The Sustainable Angle, a virtual platform in London for our fabrics, and of course, there is BSAMPLY! We are slowly continuing to go in that direction. We realize new generations rely on the web and technology, even though when it comes to fabrics nothing can compare to touching and feeling them. We do offer free samples, so we are happy to compensate for the digital with the physical experience. Of course, as we have mentioned, we have recently joined Bsamply. We like it because they funnel everything and give a more selective choice. If you type organic cotton into Google, you get a multitude of results. It's important to know the selection is in a certain sense ''screened'' and pre-selected by Bsamply. I think if a brand or a product really wants to scale up they need to tech up, but if you have a particular niche like ours, you can allow yourself to be less techy. Regardless though, you do have to be current and move with what your retailers and buyers are moving with.
8. You are already well ahead of many other suppliers in the industry but how do you see the future of Deacor Tru Tex? Do you believe the product and processes will need to continue to evolve in order to keep up with changing industry needs, trends, and requirements?
Industry and trends are becoming more aware of the need to have products such as ours. I truly to believe that. But changing the awareness to action is a different thing. Re: our processes, we believe we are good with this aspect. We are already working with a truly localized, transparent, and accountable supply chain. As mentioned above though, implementing technology in order to make our products more visible, share our story, and reach our target audience is something we will need to incorporate more and more into our daily management. For example, I would like to enhance our selection with prints, but that for us will require a least a year of R&Ding to find the processes and suppliers that resonate with our vision and strict requirements.