Fireside Chat with Carl, Founder of Australian, Fibre for Good
Read the story behind the Australian-born company with a mission to bring 100% sustainable cotton fabric to the industry with ONCC
An Australian-born company with a mission to bring 100% sustainable cotton fabric to the industry. Today, Fibre for Good offers affordable and quality Organic Natural Color Cotton (ONCC) that is ethically, responsibly, and sustainably made. Fibre for Good provides both finished products for babies and adults, as well as fabrics to be used by other ready-to-wear brands to help bring the Fibre for Good properties and mission to more consumers across the globe.
The story of Fibre for Good begins with a simple 4-word statement from the founder of the company, Carl: "This simply isn't sustainable". That's all Carl could say when he realized that a clothing factory in Bangladesh was going through 2700 liters of water to produce a single t-shirt."They were going through 32 million litres of water a week on ONE style alone. I knew something had to be done, so Fiona and I put our heads together to see how we could deliver affordable, quality garments ethically, responsibly, and sustainably."
As part of their desire to not only digitalize their work processes but bring the Fibre for Good know-how to buyers worldwide, Fibre for Good joined Bsamply in 2021, becoming the first Australian supplier on the platform.
We sat down with the Founder and CEO of the company, Carl for a brief interview on his story and the defining characteristics of his products.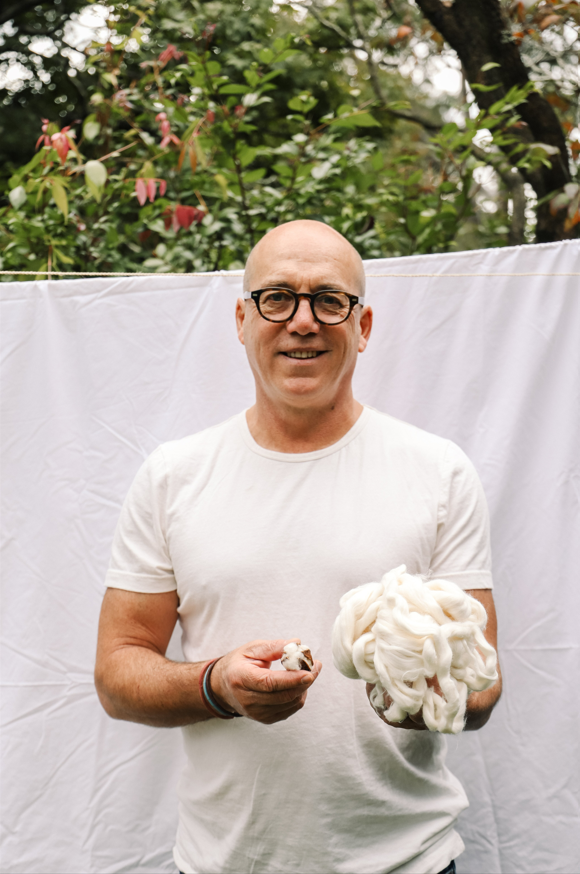 Carl, can you take us back in time a little bit and tell us about where your inspiration for the company really started?
Carl – With 35 years of experience in the apparel industry and being purely focused on driving sales, margins, and ROI for my previous employers, I knew that this was not sustainable.
One morning I woke up to the most devastating news, a garment factory in Bangladesh filled with machinists producing our fast fashion had collapsed killing 1134 innocent people. I would say this was the turning point in my career and knew then that our industry was in deep trouble, and we had to do something dramatic. I started doing my own research and l discovered how toxic our industry was on the planet. One of my learnings was that ONE tee shirt required 2700 liters of water when using conventionally grown cotton.
Fibre For Good was established when we discovered an heirloom cotton seed that dated back 5000 years to the indigenous people of South America. This heirloom variety is drought and pest resistant and grows naturally in three earth tones (Natural white, Brown & Green). Growing ONCC ( organic natural colored cotton) we work directly with artisan farmers and use regenerative farming methods. We then do the spinning, knitting, and cutting and sewing with no dyeing or wet processing this requires less energy and makes a safer working environment for all involved in the supply chain. We knew that we could create a brand that was truly authentically natural, and organic and did not have to greenwash our customers to believe that it was anything different.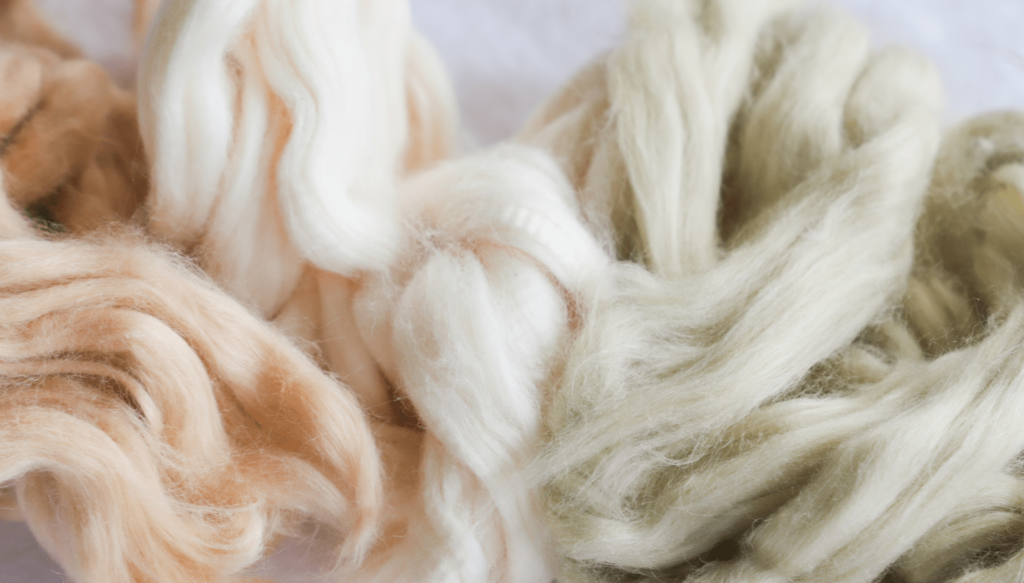 Did you first imagine creating a line of finished products or simply fabrics to be individually crafted by designers into finished garments? Why baby?
Carl – When we discovered ONCC and all it's positive attributes from how the heirloom cotton seeds and how this variety was cultivated using regenerative farming methods and have done for 13 generations. We knew the story and the quality was so compelling that we started at the beginning and designed a newborn range of everyday core items which we have to apply named Evergreens.
The most important factor was to provide young families with better choices and peace of mind knowing that no chemicals had been used anywhere throughout the supply chain which is healthier for baby and the planet's health.
With organic cotton becoming more and more sought after by consumers but also more and more easily findable and in a certain way, easier to obtain the certification in, what makes your ONCC products different to those that are GOTS certified?
Carl – This is a very interesting question and one I've been grappling with as I see this in two different thoughts. One is according to The Worlds counts only ONE PERCENT of all cotton is organic and has been in decline since 2014. This is due to high-street retailers driving prices downward and pursuing GMO cotton.
My second thought is the word ORGANIC is used very loosely as GOTS have two standards of certifying fabrics or finished goods. One is 70% organic and the other is 95% organic and can be blended with any other fibers. This allows the product to be certified organic and, without always keeping In mind how It was actually produced and treated ONCC is not part of the measured amount of organic cotton grown across the planet but Is classed as an artisan crop. All our cotton is grown without fertilizers or pesticides used to cultivate it. There is no irrigation allowed and the farmers rely on rainfall and mountain runoff only. The cotton is hand-picked and ginned by the farmers, so they retain their seeds. The seeds are used for next season and cooking oil. Because the cotton is grown in three earthy tones namely: natural white, brown, and green there is no wet processing and therefore no chemicals or heating or cooling done in a regular dyehouse. The raw cotton then will be spun into a variety of yarn counts and knitted or woven into various constructions and sold as either fabric or made-up goods. The result is this unique character that is extremely soft, and people say it feels like cashmere all 100% Organic and 100% Chemical free which GOTS say might be a first.
Would you say that differentiating your ONCC products from more commonly found GOTS is a challenge for you then? Do you find there is a lack of understanding for what truly makes a product organic, or in your case ONCC?
Carl- Fibre For Good is in the educational phase of business growth as most people have never heard of ONCC and the benefits of choosing unbleached/undyed apparel. We certainly have a long way to go to get consumers to slow down and rather make informed decisions before buying their next wardrobe. We are growing slowly across Australia and New Zealand and have a distribution based in Germany selling fabric & made-up babywear under our Fibre For Good branding.
Talking about trends and changes in what consumers are looking for, can you talk to us about your motto: From Seed to Skin. Being able to increase the tractability and transparency in products is a ''hot topic'' amongst brands in the fashion industry.
Carl- Seed to skin – Is all about our vertical operation and wanting to tell the story from the source what ingredients were used, how was the crop grown, what are the farmers like, and where they live. Consumers want vertical operations audited sometimes ironically by GOTS to ensure full transparency and traceability to have a credible and reliable supply chain that could be visited at any time which included spinning, knitting and the cut and sew facilities.
Can you tell us a little bit more as to what characteristics in your fabrics create the softness that truly defines your products?
Carl – The key to ONCC softness is due to its delicate filament fiber which are handpicked to maintain Its delicate original beauty that is often ruined by the industrial machinery typically used on farms , longer filaments and exposure to long days of direct sunlight which gives it the unique luster. The hollow core when looking through a microscope is perfectly round, this enables the fiber to do what it was intended to do breathe, absorb and protect our skin.
Carl, living in Australia and managing your company from there must create some challenges for you in terms of communicating and bringing the beauty of your fabrics to consumers worldwide.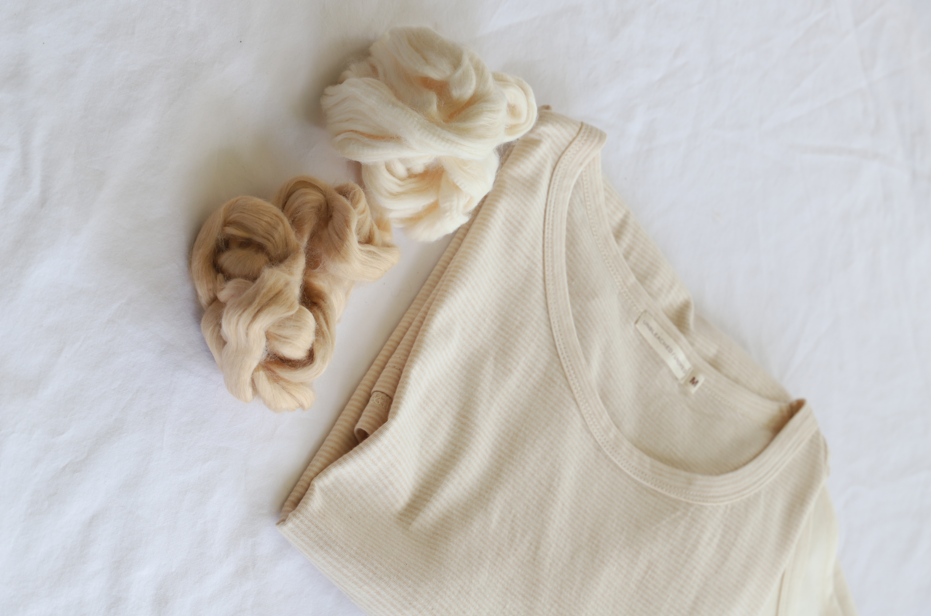 Carl, living in Australia and managing your company from there must create some challenges for you in terms of communicating and bringing the beauty of your fabrics to consumers worldwide. What are some of the ways in which Fibre for Good works with international buyers?
Carl – We ideally like to set up a stand for the buyers to feel the fabric as the product is super tactile and only once you have felt the quality of the cotton do you realize the full story. This has been a huge challenge for the brand to share our products with other designers and buyers. We've appointed an indent agent and distribution in Germany which is starting to gain traction. We are very keen to seek out more distribution partners and possibly attend a trade show in Europe next year 2023. Of course, using channels like Bsamply has also helped us more effectively showcase our products and gain more visibility with buyers across Europe and the Americas. We've had some very successful video calls to explain the story and present some products, but it's not until the buyers have felt the fabric quality is when the excitement starts.