The Pyratex Ingredient
The leading choice for ready-to-wear brands searching for sustainable yet premium and functional fabrics
Textile innovators. A Madrid-based company with a mission to replace synthetic textiles with natural and more responsible options. Working with some of the fashion industry's most renowned brands including Ganni, Pepe Jeans and Scotch & Soda, Bsamply supplier, Pyatex, has became the leading choice for ready-to-wear brands searching for sustainable yet premium and functional fabrics that are better for our bodies and our planet.
The Pyratex Ingredient can be best explained as advancement through nature. The fabrics are made either from vegetal, upcycled or biodegradable fibers and the active components in them are not artificially added nor injected. Instead, they come from the plant.They have no expiration date and they don't wash away.
Seaweed, bamboo, corn and many more. But more recently, bananas, creating a line of fabrics crafted exclusively from banana waste fibers. Pyratex CEO, Regina Polanco explains "When you collect banana fruit, the tree dies and needs to be heavily pruned for regrowth, leaving an important amount of waste behind," she says. Pyratex takes that rough, high-strength fibre and mechanically processes and softens it before blending it with organic cotton, a necessary step to achieve the right quality and functionality in knitting machines.''Ganni is the second fashion brand to use the banana waste fibre, creating a three-piece tracksuit set, helping replace the synthetic fibres typically used in athleisure clothes.
The Pyratex production chain begins early on, at the plant followed by the fibre and the yarn, and finally, the locally spun fabric. A process that uses low impact dyes and water recycling, making it not only eco-friendly but ensuring the plants properties are maintained in the final fabric. Superior breathability, quick dry, UV protection and anti-bacterial properties are only some of the qualities found in the finished fabrics, providing for a both a functional and sustainable material. The end-to-end process makes the Pyratex fabrics completely traceable and GOTS, GRS and OCS certified.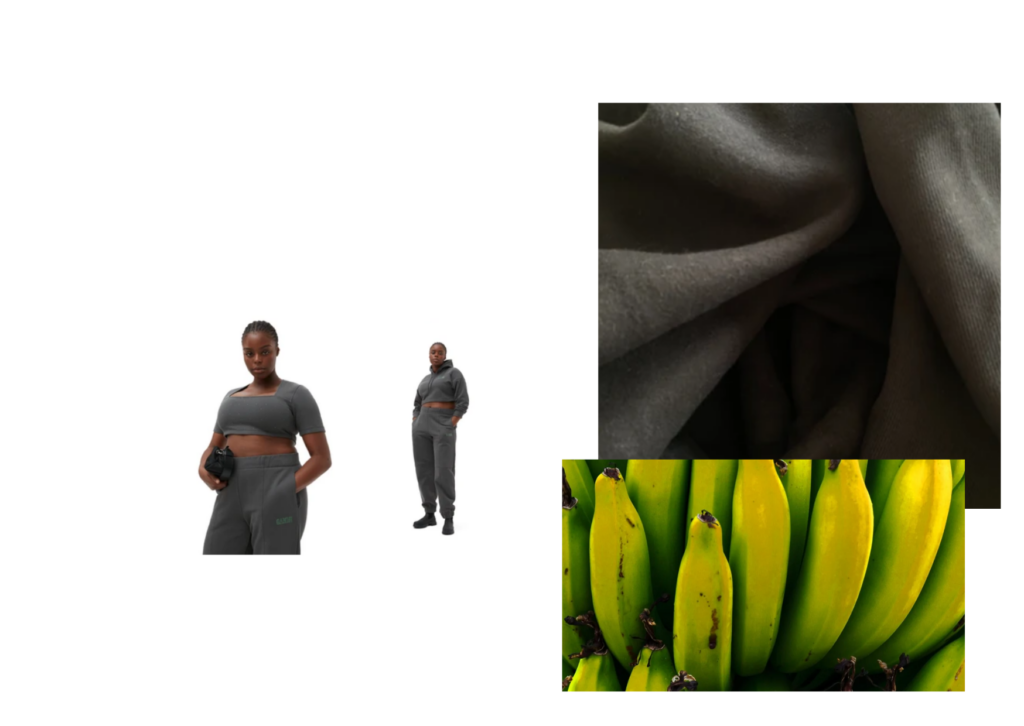 As part of their vision to reduce the environmental impact of the textile industry, Pyratex joined Bsamply in 2021, using digitalization to showcase and share the Pyratex Ingredient with brands near a far. Better for the future, and the planet. A company that today is truly leading the change towards responsibility in the fashion industry.